Startup Communities
In mid-2012 I was approached by Brad Feld, with whom I had worked extensively on the startups2students event at CU, to write an excerpt for his new book Startup Communities: Building an Entrepreneurial Ecosystem in Your City.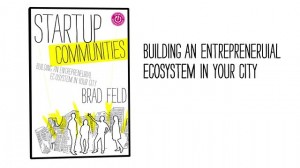 I was thrilled to hear from Brad and to have a chance to write an excerpt for his book. My piece is featured in the "University Involvement" chapter and reflects on the personal struggle that prompted me to start the startups2students event, the help I received from the local startup community, students and professors in Boulder, and how the event connected students to the vibrant startup community in Boulder.
I highly encourage you to check out the book. Not only is it written by a true expert in the field of startups, it contains some really insightful information on how to build a vibrant startup community in your city. The book is available on Amazon.